Tuesday, April 13, 2021 at 7:30 PM EST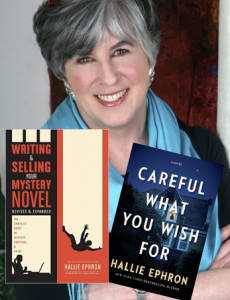 Please join the Mid-Atlantic Chapter of Mystery Writers of America when bestselling author Hallie Ephron offers an expert class on plotting your crime novel.
Hallie Ephron is the New York Times bestselling author of 16 published books, including 5 Dr. Peter Zak mysteries published by Minotaur Books, and 6 domestic suspense standalones published by HarperCollins/Wm. Morrow. Her latest, Careful What You Wish For, received a starred review in Publishers Weekly. She is a 5-time finalist for the Mary Higgins Clark Award. She is also the author of the Edgar-nominated Writing and Selling Your Mystery Novel, now in a revised and expanded edition published from Writers Digest Books. Hallie is a popular presenter at writing conferences.
This virtual meeting is free, but you must RSVP for this event. We're using Eventbrite for our reservations. Once you register, you will receive a confirmation email with the Zoom link (scroll all the way to the bottom of the email) from Eventbrite. Please keep your confirmation email! Spaces are limited, so sign up today. Also, please make sure that if you sign up, you attend. Hope to see you there!