Tuesday, May 11, 2021 at 7:30 PM EDT via Zoom
How to Harness the Power of Story in Your Author Platform
Many writers dread marketing and promotion because they think it's only about snappy taglines, fancy logos, and smarmy sales pitches. The truth is, platform doesn't have to be painful and you don't have to sell out to sell books. When you harness the power of story, you take those skills you've already mastered on the page and use them to create a narrative bridge between you and your readers.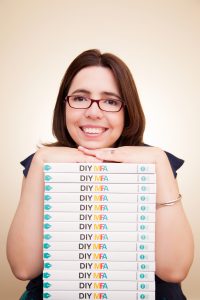 In today's fast-paced digital world, traditional marketing techniques are not enough. As a writer and natural storyteller, you are uniquely equipped to create an immersive story experience for your audience not just when they open your books, but from the moment they first discover your work. When you weave storytelling into your author platform, you not only play to your strengths as a writer, but you also build deeper connections with your readers.
Presentation Takeaways:
Discover the three dimensions of storytelling and learn how they can amplify different areas of your author platform.
Identify your storytelling archetype as an author, so you can create a narrative that stays true to your core values.
Understand your readers' expectations, so that you attract people who are hungry for your books.
Craft a journey for your readers that will turn the newbies in your ecosystem into superfans.
Gabriela Pereira is the founder of DIYMFA.com, the do-it-yourself alternative to a Masters degree in writing. She is also a speaker, podcast host for DIYMFA Radio, and author of the forthcoming book DIY MFA: Write with Focus, Read with Purpose, Build YourCommunity (Writer's Digest Books, July 2016).
This virtual meeting is free, but you must RSVP for this event. We're using Eventbrite for our reservations. Once you register, you will receive a confirmation email with the Zoom link (scroll all the way to the bottom of the email) from Eventbrite. Please keep your confirmation email! Spaces are limited, so sign up today. Also, please make sure that if you sign up, you attend. Hope to see you there!